[siteorigin_widget class="thinkup_builder_seperator"][/siteorigin_widget]
Repo Alliance Fundraising Auctions
Supporting The Collateral Recovery Industry's Voice In Washington DC
REPO Alliance is the voice of the Collateral Recovery Agent in Washington DC.  With the funds raised, we have hired a lobbyist to help us fight against language in bills that decimate the recovery industry.  This is going to be a long continuous battle.  We need the continued support of everyone to keep our place at the table.
The REPO Alliance auction is an important part in our fight.  The funds raised from the auction will be used 100% to continue funding our lobbyist efforts, keeping our place at the table so our voice will be heard!
Thank you for your support!
This Item Has Been Graciously Donated By:
 Jeremy Cross – International Recovery Systems, Inc.

Pit Boss Pro Series Mahogany Pellet Standup Smoker
Sold for: $775.00[8 Bids]
Reserve: [n/a]Winner: Snatchmaster
Auction closed
Bidding Over
First Bid: 2 months ago
Last Bid: 2 months ago
Shipping: n/a
Payment: Instructions to follow
Ends:

Days


Hours


Minutes


Seconds
Description
Pit Boss Pit Boss Pro Series 1322-sq in Mahogany Pellet Smoker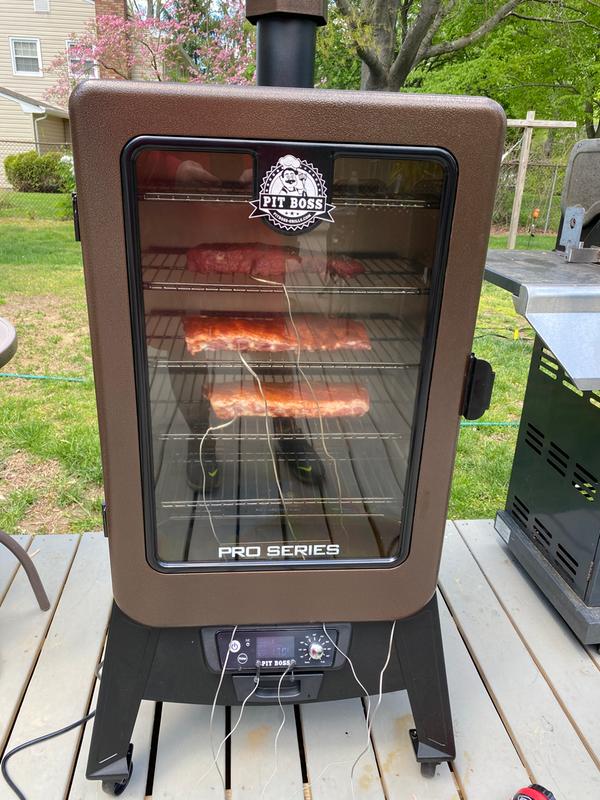 Achieve real wood flavor, right at your fingertips, with the Pit Boss 4 Pro Series Vertical Wood Pellet Smoker. Built with four easy to maneuver wheels, the PBVPS1 is the perfect addition to any party. With this small and portable size, the 4 Pro Series Vertical Wood Pellet Smoker packs a powerful punch. It features five porcelain coated cooking racks that stack together to provide 1,322 square inches of adjustable cooking space. Smoking, roasting, and baking are so convenient that you'll discover reasons to wheel it out for every meal. Plus, the hefty 45 pound hopper provides non-stop smoking that lasts up to 25 hours. Which means, you can leave ribs slow smoking in the morning and trust that they will be cooked in continuous hardwood aroma until they ready for dinner. In addition, the 4 Pro Series Vertical Wood Pellet Smoker has a large view window to eliminate the need for bee-a-boo cooking. While the Pit Boss meat probe, included with every PBV4PS1, allows you to easily monitor the internal temperature without having to open the smoker door. Revel in one of a kind wood-fired flavor with the convenience, and ease, of the Pit Boss 4 Pro Series Vertical Wood Pellet Smoker.
Dial-in digital control with LED read out
Cooking space: 1,322 square inches
Porcelain coated cooking racks: 5
Smoke up to 25 hours
Hopper capacity: 45 pounds
Temperature range: 150 - 420 F
5-in-1 cooking system
Porcelain coated water pan
Meat probes included: 1Retail Value: $399
Terms and Conditions
Click to read our bidding terms.

All registration information the Bidder provides to the Auctioneer shall be current, complete, and accurate. All bidders must be 18 years of age or older. The bidder agrees to not use any device, software or routine to interfere or attempt to interfere with the proper working of any transaction being conducted on and during any auction sale.
For most auctions, settlement for payment for purchases must be made by cash, cashiers' checks, Visa/MasterCard, company check presented with a irrevocable bank letter of guarantee  or wire transfer of funds, and made payable to R. J. Montgomery & Associates, Inc.  Please see each individual auction overview page for specific payment terms. All sales are subject to appropriate state Sales Tax laws. If you are exempt from paying sales tax you must provide the auctioneer a copy of your license or fill out a tax exemption form. Buyer shall be responsible for making all arrangements for merchandise pick-up and/or removal per specific terms or conditions listed for auction. Please note that some removal times are short, be aware of removal times when you bid.
The descriptions of item/lots appearing in the auction and in advertising prior to the auction are believed to be correct. Nevertheless, neither those descriptions nor any oral statements made by Owner/Seller or Auctioneer and employees concerning any item/lot shall be construed as a warranty, either expressed or implied. ITEM/LOTS ARE ALL SOLD AS IS - WHERE IS – HOW IS and WITH ALL FAULTS, known, apparent, or otherwise. Bidder acknowledges that all item/lots were available for inspection prior to the auction and, by these terms, Auctioneer and Owner/Seller strongly encouraged Bidder to carefully inspect each item/lot in which Bidder had any interest to determine the item/lot's nature, quality, condition, quantity and size. All Bidders rely solely on their personal inspection and not on information listed on the Site or otherwise provided by Auctioneer and employees or Owner/Seller. Bidder's failure to inspect, or otherwise to be fully informed as to the nature, quality, condition, quantity and size of any item/lot will not constitute grounds for any claim, adjustment, refund, termination of the contract for sale, or refusal to close the sale, against Auctioneer or Owner/Seller.
The Site User Agreement constitutes the final expression of the parties' agreement and a complete and exclusive statement of the terms of the sale. The IMPLIED WARRANTIES OF MERCHANTABILITY AND FITNESS FOR A PARTICULAR PURPOSE, AND ALL OTHER WARRANTIES, EITHER EXPRESSED OR IMPLIED, ARE SPECIFICALLY EXCLUDED from this sale and transaction and shall NOT apply to the merchandise that is the subject of these sales. Auctioneer does not have control over the item/lots that are posted in the Site, and cannot guarantee the authenticity and quality of said product. Auctioneer is not responsible for the actions the Owner/Sellers and Buyers take before, during, and after the auction, typographical errors, misprints, loss of merchandise/money, damage or failure of equipment, due to your visit to this auction site. Use of this site is at your own risk.
Despite efforts to avoid the withdrawal of item/lots from the sale after they are listed it may sometimes be necessary. Auctioneer and the Owner/Seller reserve the right to do so at any time before or during the sale. The Owner/Sellers/Auctioneer of property sold through this Site reserve the right to reject any and all bids in their sole discretion. If there is a reserve on a lot, the auctioneer and/or the seller have the right to bid on behalf of the seller.
*Disclaimer – All funds received via the Repo Alliance auctions are paid to and go directly to Repo Alliance. Repo Buzz receives no fees or premiums and has offered and donated the use of the Repo Buzz website for the sole purpose of raising funds to support the Repo Alliance. By placing a bid on any item, you agree to our complete Terms & Conditions which can be read in full HERE.